The Sichuan earthquake one month on
12 June 2008
---
2008/06/12
Zahra Ali of the British Red Cross directs PLA troops who are helping set up the Red Cross base camp in Jiulong town. NGO team leaders told China.org.cn that cooperation with the authorities has been excellent.
By John Sexton
China.org.cn correspondent reporting from Sichuan
Additional reporting by Keen Zhang
One month after the May 12 earthquake, China.org.cn visited Jiulong, a township in Mianzhu, Sichuan, and found, amid appalling devastation and tragedy, people pulling together to rebuild their communities with massive assistance from government, NGOs, and individual volunteers.
Jiulong is the main township administering forty or so small farming communities scattered across flat rice-growing land at the foot of the Longmen mountains; it is just 30 kilometers from the earthquake epicenter Wenchuan.
The town was almost completely leveled, and hundreds of its residents killed, on May 12. Only a few, mainly modern buildings are still standing; almost all the older houses crumbled into piles of bricks. Many survivors are living in tents near to, or sometimes within, the wreckage of their former homes, unwilling to leave their personal belongings, or maybe from a personal sense of belonging.
Jiulong exemplifies many familiar aspects of the Sichuan earthquake story. There was a horrific school collapse in which at least 150 primary school children were killed. The ruins of the school, with dozens of large white wreaths, and small table-shrines carrying children's toys, are a shocking and harrowing sight. Parents have hung banners proclaiming the collapse of the building was not a natural disaster but a man-made tragedy caused by shoddy construction. The authorities, for their part, have not attempted to remove the banners.
Our experience in Jiulong reflected the halting and contradictory steps, seen since May 12, towards greater media openness. When we arrived at Jiulong, in convoy with the International Red Cross, we were stopped by police and told "No interviews, no photos." But once inside the town we found a Spanish film crew working openly. One of the leaders of the Red Cross base camp, also from Spain, told us "If you have any problems with interviews and so on, just call me. The police chief is my friend; I have lunch with him every day."
There are cases of terrible hardship. As we toured the town with the International Red Cross, we were stopped by Huang Dexiu, an elderly lady who pleaded with us to help her care for her husband, Fu Qingyou, an 82-year-old PLA veteran, wounded almost 60 years ago in the Korean War.
"I don't care whether I live or die, but who will look after him? Since the earthquake he hasn't been able to do anything for himself. I even have to take him to the toilet. A tank shell couldn't kill him but the earthquake has done for him. We're coming towards the end of our lives, and now this. I don't know what to do." Her husband sat nearby staring blankly into space, apparently unaware of his surroundings. We all felt helpless, even the capable, can-do Red Cross workers.
82 year old People's Liberation Army veteran Fu Qingyou outside his wrecked home. Mr. Fu was wounded by a tank shell in the Korean War nearly 60 years ago, but until the earthquake had been in relatively good health. Since May 12 he has not spoken a word or walked a step unaided. His wife, Huang Dexiu, who is in her 70s, told us she did not know how she would cope with caring for him.
But amid all of the pain and the terrible loss and waste, Jiulong is an example, much like the successful draining of the Tangjiashan quake lake, of how prompt, effective action can avert the worst outcomes.
Despite fears of water pollution there has been no post-disaster epidemic. Doctors at a field hospital supplied by the city of Tangshan, scene of an even more devastating earthquake in 1976, are mainly treating people who have injured their ankles clambering through the rubble, or have been bitten by the town's dogs, which were apparently driven mad by the earthquake. They told us they were thinking of shutting up shop and moving the hospital to another town with more urgent need of their assistance.
The government has mounted a massive relief and reconstruction effort in the area. What looks to me like a division of the PLA Navy is erecting hundreds of prefabricated dwellings just outside the town. The PLA is also willingly pitching in to help the relief work of both Chinese and international NGOs. When we arrived at the base camp of the International Red Cross, we found dozens of troops helping unload supplies of prefabricated latrines and water purification equipment.
Overseas NGOs, particularly the Red Cross, have played a major role supplementing and plugging the gaps in the government relief effort. And without exception, the NGO staffers we spoke to were full of praise both for the government's relief and reconstruction work, and for the level of cooperation NGOs were receiving from at every level. Jaime Bara, leader of the Spanish Red Cross team in Jiulong, a veteran of many overseas missions, starting with Rwanda in 1994, told us he had never seen such a level of cooperation from the authorities in any other country. My judgment, for what it is worth, is that his words were heartfelt, not diplomat-speak.
One of the most impressive aspects of the Sichuan crisis, and perhaps most significant for Chinese society in the longer term, has been the mobilization of tens of thousands of civilian volunteers from all over China. In the immediate aftermath of May 12, the Chengdu office of the Chinese Red Cross was besieged by people demanding to be given, something, anything to do. Thousands made their own way to Sichuan as individuals, or with family, friends and ad hoc groups.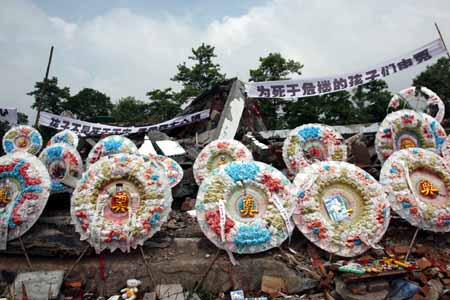 The ruins of Jiulong primary school, in which 150 children died. In the foreground is a small table carrying some of the children's toys. The banner reads "We demand justice for the children killed by a dangerous building".
Those with cars simply loaded up with supplies and drove there. Ina Bluemel, leader of the British Red Cross team in Jiulong, told us the volunteers were extremely committed and capable, willing to work almost continuously without a break, refused offers of payment and food, and were often able to contribute specialized skills.
The Red Cross translator Wei Gang is an example. Around 30 years old, Wei Gang straddles China's two worlds of the rich, urban East and the poor, rural West. His parents are from Jiulong so he speaks the local dialect perfectly. But he has a doctorate from Oxford, and in normal times he is a maths professor at Shandong University. Fluent and articulate in English, he told me he set off for Sichuan immediately after May 12, has been there ever since, and has no plans to leave any time soon.
It is hard to believe we are not yet halfway through 2008. The year started with freak snowstorms in southern China that killed dozens, disrupted exports and caused Spring Festival chaos. March saw the rioting in Tibet; then the disastrous international leg of the Olympic torch relay, in response to which, a defensive, edgy, and occasionally unpleasant kind of nationalism took shape both inside China and among the Chinese overseas.
But earthquake reconstruction has given the Chinese people a positive cause around which they have enthusiastically united; at the same time they have warmly welcomed generous assistance from overseas. The very same Western media that criticized China during the torch relay are now praising to the skies the government's relief and reconstruction work. Just possibly, by the time the Olympics come around, despite the shadow cast by May 12, 2008 will have given the Chinese people something they feel able to celebrate.
(www.China.org.cn June 12, 2008)